Storing your caravan or motorhome during the cold winter months can be challenging and expensive. The advantage of having a caravan canopy at your own home is you have access to your vehicle at all times to keep on top of any maintenance or general upkeep such as turning your wheels to alleviate any problems or cleaning the external light fixings ready for the summer months.
Caravans are designed for outside use but sitting in one place for long periods of time is not ideal especially when exposed to falling leaves, branches and other debris. Our Caravan canopies offer the perfect shelter to protect your pride and joy all year round.
By keeping your caravan or motorhome under a wall mounted carport offers a higher level of security by keeping your mobile home close to your house you can keep a closer eye on it.
Our caravan canopy kits include: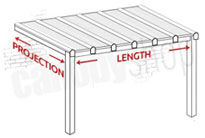 Polycarbonate glazing panels (in your chosen colour)
Powdercoated aluminium canopy posts
Rainwater system and fixing pack
Our caravan canopies can be installed high enough to cover even the largest of caravans and motorhomes as long as there is a suitable wall to fix the carport to. If you require extra space around your vehicle just ask and we can suggest a size that would be suitable for your requirements. Call us on 01536 446393 or email sales@thecanopyshop.co.uk for more information.
To see prices and product details choose from one of the options below.