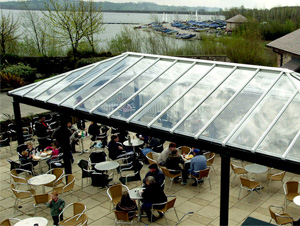 Whether you're looking to enhance your commercial property with an entrance canopy, provide a practical loading bay or walkway shelter or create a covered social area for employees and/or customers, our commercial canopies offer the perfect solution. With a sturdy robust structure and weatherproof roof these canopies are built to last.
As well as looking good our commercial canopies offer many practical benefits including providing shade and shelter from harmful UV rays and unpredictable showers, providing a secure storage area for cycles/ trolleys/ vehicles and also providing the ideal cleaning and service bays all year round.
Our commercial canopies provide the perfect shelter for customers, employees, company vehicles and can even enhance the look of your business. Our commercial canopies offer the practical benefit of protection from the weather while waiting for access to a building or for moving products and equipment to commercial vehicles.
Our commercial canopies can be designed to suit your budget and your requirements, however if you're business is looking for some extra finance you can visit the Portman Asset Finance website to find out more at www.portmanassetfinance.co.uk
If you would like to know more about our commercial canopies please call us on 01536 446393 or fill in the form below and we will be happy to help.